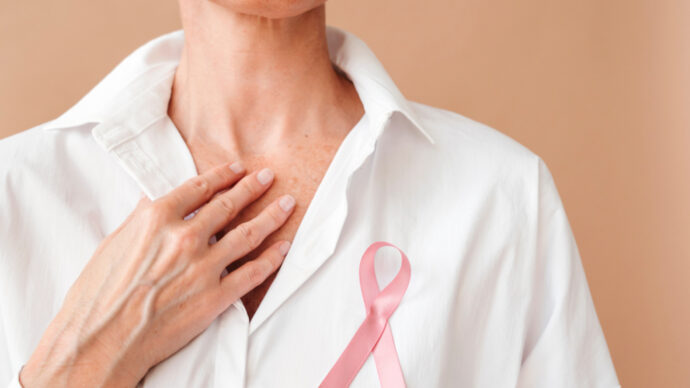 October is Breast Cancer Awareness Month. The National Breast Cancer Foundation launched "The Mammogram Pledge"—because early detection is crucial for the successful treatment of breast cancer. The foundation stresses how important it is for all women over the age of 40 to get an annual mammogram.
In a recent poll, Sermo physicians weighed in on why women skip mammograms. The number one reason according to the doctors is because patients assume they are healthy. Here's more of what doctors had to say on why women skip this important screening, despite their doctors' guidance:
32% said they assume they are healthy
26% said they find them uncomfortable
15% said lack of time/prioritizing
14% said financial reasons
10% said anxiety
2% they've previously received false positives
This year's Breast Cancer Awareness theme is "RISE…This year we RISE to ensure every woman has access to the screenings she needs and the support she deserves. When we RISE, we Rally in Screening Everyone."
When asked about their recommendations, 89% of global Sermo physicians said they recommend all women over the age of 40 get an annual mammogram. And 94% of doctors say they have seen mammograms and early detection save lives.
Recently, Katie Couric revealed she has breast cancer. She is raising awareness that having dense breasts, like she has, increases a woman's risk for breast cancer. And screenings can make all the difference. In a recent poll, 90% of Sermo physicians said they believe it's helpful when celebrities share their health issues, in an effort to raise awareness.
According to Katie Couric Media, "Dense breasts are more difficult to screen for cancer using a traditional mammogram, Lillie Shockney, R.N., a professor of surgery at Johns Hopkins Medicine, tells KCM. That's because fatty tissue appears dark on a mammogram, while fibrous and glandular tissue looks white, like tumors do.
'It can make finding cancer a bit like finding a polar bear in a snowstorm,' she says.
Because of this, if you have dense breasts, a doctor may recommend an additional screening. A breast tomosynthesis — also called 3-D mammography — is one option, Shockney says. This tool allows clinicians to adjust the contrast of an image, which helps them better distinguish between the white of a harmless breast lobule and that of a potentially dangerous mass.
Breast ultrasounds, like the one Katie received, are also sometimes used, says Natasha Robinette, M.D., an oncology radiologist at the Karmanos Cancer Institute in Detroit. And new tools to help improve detection in dense breasts are still being developed, like SoftVue, a new type of breast ultrasound created by researchers at Karmanos. This tool, which was only recently approved by the FDA, works much faster than an automated breast ultrasound and when used with a traditional mammogram increases detection by about 20 percent."
Although 89% of physicians said they are aware of the increased cancer risk associated with dense breasts, only 57% said their patients are aware of it. When asked about 3-D mammograms and breast ultrasounds, 58% said they have experience working with them; and 86% have witnessed advancements in breast cancer detection and treatments in recent years. 
Below, Sermo physicians from around the world share more of their professional insights, perspectives, and opinions on this important topic—in their own words: 
"Contrast-enhanced mammography is proving to be useful in detecting breast cancer that may not be seen on digital mammography."

Radiologist, U.S.
"Early detection is key! Once diagnosed, pathologists should be reflexing biomarker testing so that the oncologists can get their patients to the correct individualized treatment asap!"

Pathology, U.S.
"Regular 3D-Mammography is Frontline and advanced tool of breast screening. Other tools which are helpful in breast screening include self- Examination of breast, regular Ultrasound, True cut biopsy of soft tissues and computerized tomography. Biopsy and Computerized tomography also detect other advanced cancers." —GP, Pakistan 

General Practitioner, Pakistan
"Currently breast Tomosynthesis and the advances in ultrasound of the breast appear to be the main leading developments in breast cancer screening, particular for women with dense breasts. PET-CT scans have been looked into as a substitute for mammograms, but rather than a screening tool its main usefulness has proved to be as a tool to determine if a breast cancer has spread or if a patient has been started on treatment for cancer, to evaluate if there has been response to it. Along with a screening mammogram and ultrasound, in some instances a MRI of the breast may be appropriate in situations to pick up smaller lesions. It is also can pick up lesions in dense breasts or in a woman who has had breast implants. A new technology that may be useful for screening and early detection not only for breast cancer but other malignancies, is the Galleri Multi-Cancer Early Detection Test. The test obtained by a blood draw can detect a "signal" that is common to over fifty cancer types (including breast cancer). The test has a purported specificity of 99.5% and a sensitivity of 76.3%. The FDA has not yet approved the test, however."

Internal Medicine, U.S.
"Yes, advances in imaging techniques with increasingly higher resolution and less invasiveness, and analyzes of genetic markers are favoring an increasingly earlier diagnosis and are even avoiding diagnoses of the disease through prophylactic mastectomies."

Family Medicine, U.S.
Everyday thousands of Sermo member physicians from diverse backgrounds and experiences exchange knowledge with each other. Sermo is the original medical social network that empowers today's physicians. Over 1 million fully verified physicians across more than 150 countries come to our platform to talk with peers, participate in paid medical studies, solve challenging patient cases, contribute to the world's largest database of drug ratings – and enjoy a few laughs along the way.
Interested in more? Check back any time and follow us on Facebook, Twitter, and LinkedIn for the latest and greatest in physician insights.
Are you a physician or healthcare practitioner?
Explore the many benefits of joining Sermo's medical community and sign up for free today.