What is the ASCO annual meeting?
If you're an Oncologist or part of your job relates to oncology, you likely know the annual American Society of Clinical Oncology (ASCO) event. ASCO holds a meeting annually for oncology professionals, industry representatives, cancer researchers, and patient advocates to share the latest clinical and scientific advances in oncology treatments.
The ASCO annual conference began in 1965. The first meeting of 60 doctors began in Philadelphia, Pennsylvania. Since its inception, attendance at ASCO annual meetings has increased, and today it stands as one of the largest gatherings of oncology professionals globally. According to a poll, 76% of Sermo physicians indicated they would attend the ASCO conference 2022 either in person or online.
Each year, ASCO conferences have a theme. The week-long conference delivers scientific presentations on promising therapeutics and results of clinical studies to a wide audience. Other aspects of oncology including cancer-focused quality improvement methods, diagnosis, surveillance, cancer equity and health policy are also discussed. The ASCO annual meeting is a fully packed learning pool for medical professionals, major media outlets worldwide, and medical associations with a keen interest in oncology.
In 2021, the ASCO meeting was held virtually due to the COVID-19 pandemic. The theme of the 2021 ASCO virtual meeting was "Equity: Every Patient. Every Day. Everywhere". Attendees received access to thousands of abstracts, presentations and discussions focused on improving patient access to high quality cancer treatments. Some of the ASCO 2021 highlights include the oral ASCO abstract sessions with Q&A, plenary session, ASCO book club, case-based panels and ASCO voices. To learn more about the ASCO 2022 Annual Meeting, we have summarized some of the highlights of the conference.
What were the ASCO 2022 highlights?
Continuous learning is important for healthcare providers especially for those in oncology and the ASCO conference serves this purpose. A survey of Sermo physicians reported that 56% of Sermo physicians had a goal of learning about new cancer studies and innovations from the conference.
The ASCO 2022 Annual Meeting was held June 3-7, 2022. It organized a global oncology community in Chicago to discuss and explore the latest advancement in tumor research, data, care and treatment. With over 85 livestream sessions and interactive media platforms for live Q&A sessions and connection with other attendees, the 2022 conference was well prepared to cater to a wider global audience. The theme of the ASCO 2022 annual meeting was "Advancing Equitable Care Through Innovation" and featured over 200 sessions committed to the theme.
Attendees of the clinical oncology ASCO 2022 Meeting had the choice of attending in person or online. The conference provided more virtual opportunities and interactive media platforms. Live and on-demand sessions, including posters, discussions, symposia, and educational sessions open up a world of networking and learning for HCPs.
Other Key highlights from the conference include:
Over 2,000 abstracts and 2,500 poster presentations
Opening Session included a Presidential Address from Everett Vokes, MD, FASCO, as well as guest speakers André Michel Ilbawi, MD, from the World Health Organization, and Douglas R. Lowy, MD, at the National Cancer Institute.
Plenary Series–Rapid Abstract Update: Research presented throughout the 2021-2022 virtual Plenary Series showcased during a special session at the Annual Meeting
Mentorship and Career Development Roundtable Discussions: A Conversion with ASCO's Special Award Recipients
Film Screening: Can You Hear My Voice? by Bill Brummel, an award-winning documentary producer/director. The film highlights the work of London's Shout at Cancer choir, whose singers are also living without voice boxes.
ASCO Awards Recognition
Industry Expert Theater featuring industry-sponsored educational presentations on the latest in oncology practices, products, services, and technologies. Topics presented include "A Legacy of Innovation in Non-Small Cell Lung Cancer" by Bristol Myers Squibb, "Gemma Secretase Inhibition in Desmoid Tumors and Multiple Myeloma" by SpringWorks Therapeutics, "Study Results from a Randomized Pivotal Trial in R/R DLBCL" by Genentech amongst others.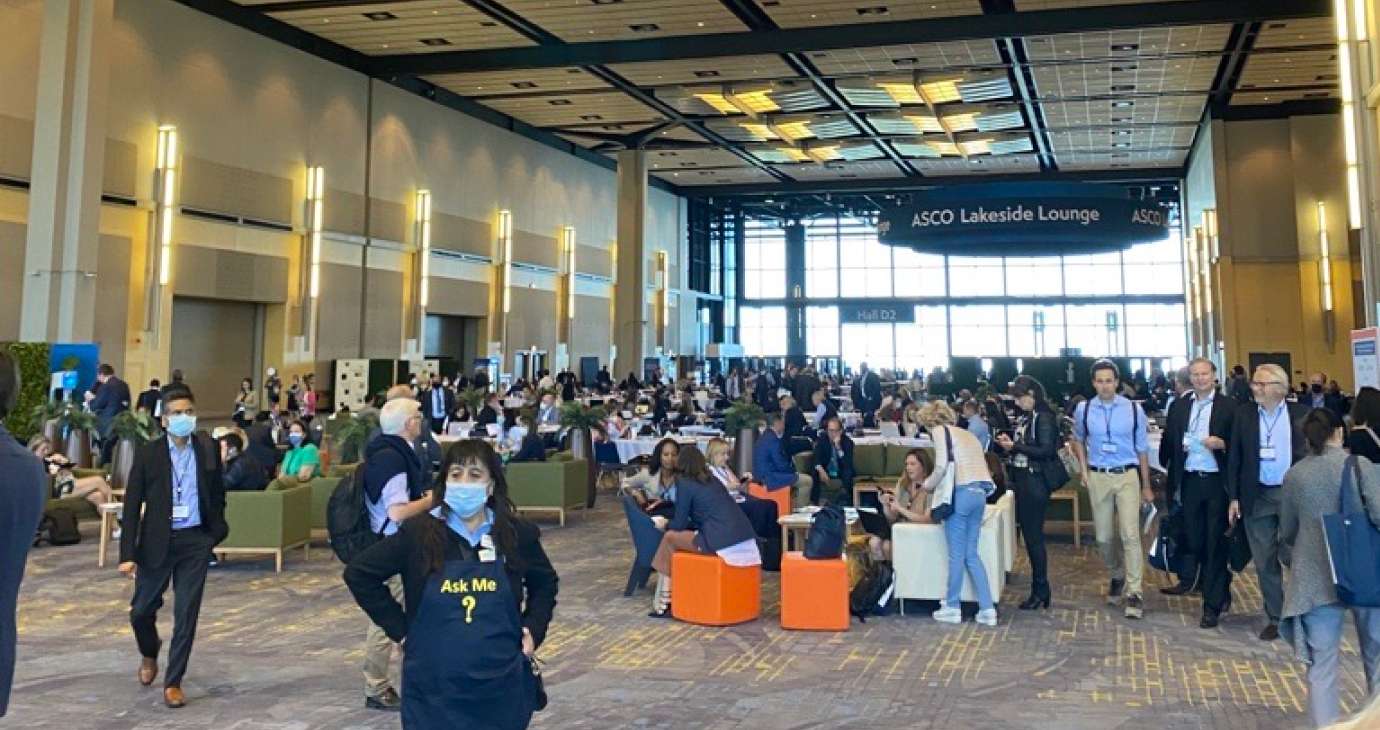 In line with the year's theme of equity and innovation, key ASCO abstracts and presentations focused on innovative treatments and novel ways of using existing treatments. Some of the key topics included:
Panitumumab (PAN) plus mFOLFOX6 versus bevacizumab (BEV) plus mFOLFOX6 as first-line treatment in patients with RAS wild-type (WT) metastatic colorectal cancer (mCRC): Results from the phase 3 PARADIGM trial. (Abstract LBA1, Plenary)
Phase III assessment of topotecan and cyclophosphamide and high-dose ifosfamide in rEECur: An international randomized controlled trial of chemotherapy for the treatment of recurrent and primary refractory Ewing sarcoma (RR-ES). (Abstract LBA2, Plenary)
Trastuzumab deruxtecan (T-DXd) versus treatment of physician's choice (TPC) in patients (pts) with HER2-low unresectable and/or metastatic breast cancer (mBC): Results of DESTINY-Breast04, a randomized, phase 3 study. (Abstract LBA3, Plenary)
Lenalidomide, bortezomib, and dexamethasone (RVd) ± autologous stem cell transplantation (ASCT) and R maintenance to progression for newly diagnosed multiple myeloma (NDMM): The phase 3 DETERMINATION trial. (Abstract LBA4, Plenary)
Why you should attend ASCO
The ASCO conference brings global physicians caring for oncology patients together to discover the latest treatments, share ideas, research results, collaborate, and network in one innovative event.
Sermo found that 70% of physicians at ASCO reported gaining knowledge about new cancer research and advancements as the biggest benefit. 82% expressed strong interest in learning about adoptive new cell therapies, such as CAR T cells, CAR NK cells, and T cell receptors.
Attending the conference gives you the opportunity to learn and explore the latest advancements in tumor research and treatment from other professionals around the world without borders. Some notable work that Sermo physicians found insightful included health equity research, on the need for diversity in clinical trials as well as a revolutionary case for the treatment of advanced breast cancer.
As much as 58% of Sermo physicians indicated that breast cancer tracks at ASCO 2022 were the most practice changing. 34% found lung cancer tracks revolutionary, and 32% noted developmental therapeutics. At ASCO, every cancer track is covered, and healthcare professionals get access to information in their own niche.
Networking with other medical professionals is also one of the major pros of attending the ASCO annual meeting. As many as 42% of Sermo physicians who attended ASCO 2022 reported this as one of their top two reasons for attending the conference. Connect with other physicians and investigators from academia and the healthcare industry. Learn and discuss new ideas on clinical research methods and findings.
The conference also provides an excellent opportunity to connect with business leaders in biopharma who may be interested in funding novel clinical research. One-on-one conversations take you a step closer to getting your industry-sponsored trial underway.
The new American Society of Clinical Oncologists interactive platform that supports a Live Q&A session, polling sessions and "Find Your Colleague" feature are some of the tools you can utilize to find and connect with other professionals to have even more enlightening conversations.
Whether you attend in person or virtually, you can access thousands of educational sessions and materials. Plus, connect and interact with both attendees and presenters.
How to make the most out of the next ASCO Conference
Whether you plan to attend the next conference in person or online, here are tips to make the most out of your time at the conference:
Prepare ahead of time. We strongly advise you to take time to review the program and plan your agenda. Look out for topics that interest you and mark your calendars. You don't want to miss out on the conversations you are most interested in. ASCO 2022 focused on health equity, yet only 20% of polled Sermo physicians rated that as their top reason for attending. Instead they focused more on new research, innovations, and networking.
Draw up your schedule and set your Out of Office. The 5-day meeting is packed full with presentations and educational sessions. You will barely have time for other day to day activities. To maximize your time, plan your out of office and prioritize the sessions you are interested in. Don't forget to add these sessions to your calendar and reschedule other activities or meetings during this period.
Interact with other attendees and presenters. The conference is powered with loads of tools and features to boost interactivity with other professionals. Take advantage of these tools at your disposal to build your network and continue the conversation. 42% of Sermo physicians attended the poster sessions, which offered the opportunity to have personal one-on-one discussions with researchers.
Record major takeaways. The conference aims to improve cancer outcomes by sharing lessons and research with the global patient care community. The cancer care and treatment lessons acquired at the conference are only valuable when implemented into your practice or career. Record the takeaways, discuss with your colleagues and implement them for the betterment of cancer outcomes.
Download Sermo's Guide to ASCO. Our easy-to-use guide brings together insights from hundreds of Oncologists about the most sought after sessions, tips for attending and what to do outside the conference in Chicago. We'll post it within the community and email Dr. members before the event.
Engage with other physicians before, during and after the event on Sermo. Before the event, participate in paid surveys and community polls to prepare for ASCO with your peers. During the meeting, engage with posts from other members who are attending and sharing their takeaways. After it's over, join the live event Sermo Rounds: Oncologists Present: ASCO22 in 30 Minutes. You can now watch it on demand.
ASCO 2023 met June 2nd through 6th. Make sure to grab your copy of Sermo's Unofficial Guide to ASCO 2023 to get a full overview without missing a beat.
Sermo keeps up to date on ASCO annual meeting and news related to the conferences. To receive ASCO resources and update, join Sermo today.